Paintings
Here we share what little is known about Bosdet's paintings
Two years after his appointment as Curator of the Life School at the Royal Academy, Bosdet exhibited an unnamed portrait in the Summer Exhibition of 1885, [R.A. cat. number 1471].
Little is known by us of Bosdet's paintings. His main occupation at this time was line work and life drawing and teaching at the Royal Academy and at the Islington School of Art. Although he had completed his first commission for a stained glass window in 1882 for the Church of Ste Marie du Câtel in Guernsey, we believe he didn't complete another for ten years.
We know of four paintings in Jersey, and one in The Netherlands.
The reredos in three panels behind the high altar at St Saviour's Church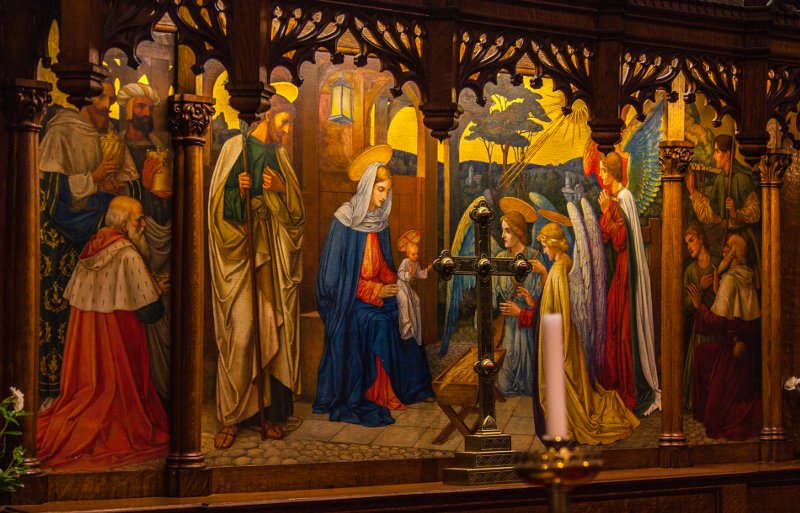 Representing the Nativity and painted in Pre-Raphaelite style and in soft hues, each panel bears Bosdet's signature and the date 1907.
The central panel depicts the Holy Family, with Mary holding the Christ Child standing on her knees. The panel on the left shows the adoration of the Magi and the right-hand panel represents the arrival of the shepherds. The figures and buildings are all painted against a gilded background
Christ Crowned with Thorns
Signed "Painted and Presented by H T BOSDET 1897"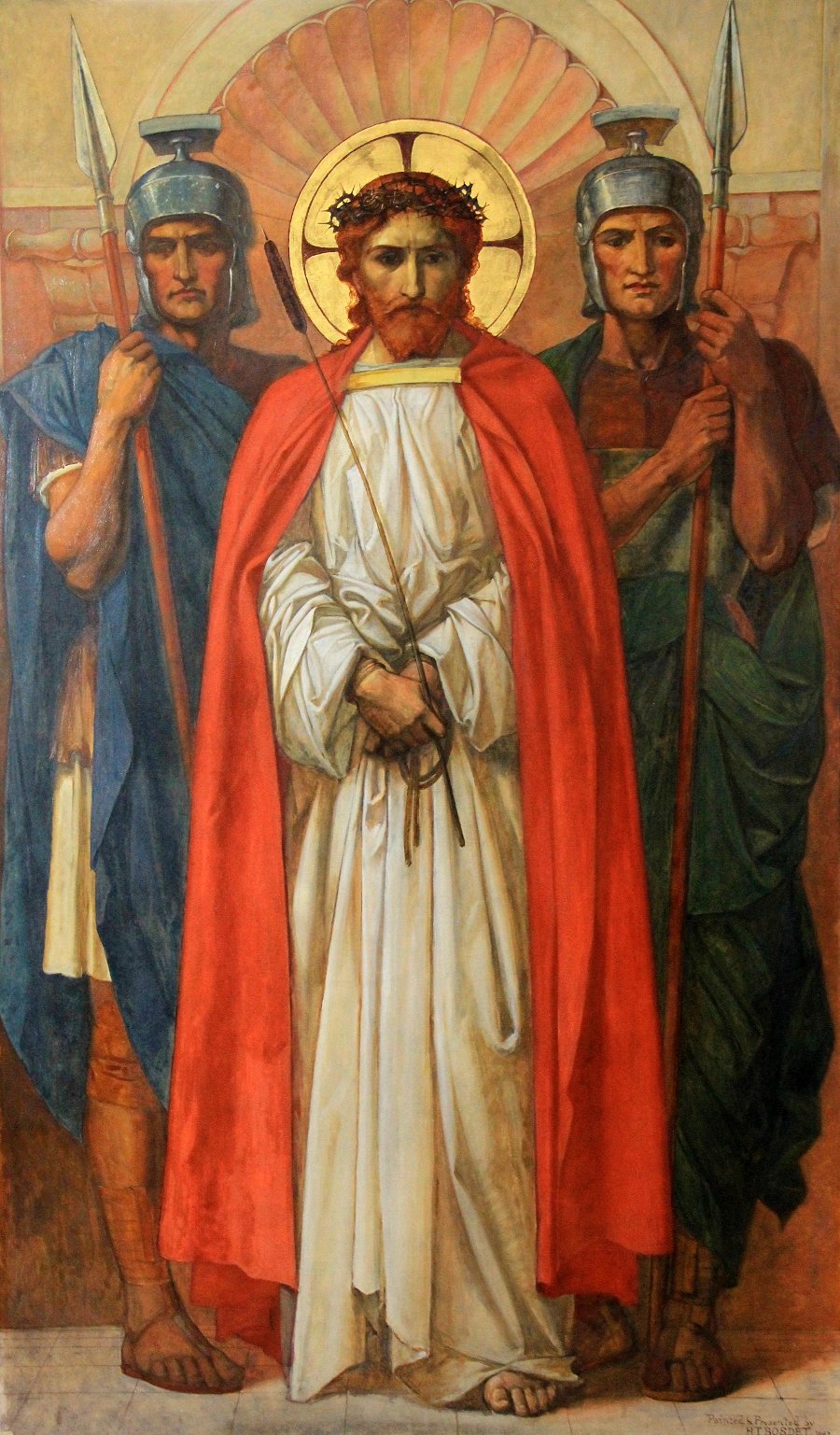 This is a major work measuring 6 feet high by 3 feet 6 inches and depicts Christ standing in the praetorium after his trial before Pontius Pilate, wearing a crown of thorns and holding a reed as a sceptre in his hands which are tied with a rope, with two Roman soldiers standing behind. The painting is particularly striking. All the hallmarks of Bosdet's work are present — the elegant composition, the colour (Ch.27 of St Matthew's Gospel refers to a scarlet robe, cf. the Gospels of St Mark & St John), and beautifully observed figures and clothing, and his attention to detail. As the Dean of Jersey observed when the painting was unveiled and rededicated after restoration in June 2013, Christ is carrying the sins of the world on his shoulders. Whilst one soldier looks uninterested, just another crucifixion, the other looks uncomfortable and shamefaced.
The painting was discovered in July 2009 as a result of research done by Maya Hammarsal for the excellent documentary, released on DVD in 2010, entitled: 'Bosdet:The Man behind the Glass Window' which she co-produced, wrote and directed with Mark Jones. A link to view the documentary is available on our home page. A scrapbook of Bosdet's papers given to La Société Jersiaise by his widow contained a testimonial from the Vicar of St Saviour's Church, Sunbury-on-Thames "...as to the really fine picture of the Holy Saviour which you have just painted for our Church... ." Maya, accompanied by Pierre Bosdet and a friend, found the painting in a poor condition in a storeroom at St Saviour's Church. At Maya's suggestion, the church authorities kindly donated it to The Jersey Heritage Trust (JHT) in the expectation that it might be restored and appreciated in the place of the artist's birth.
At JHT's request our Trust arranged to bring the painting to the Island, and with the aid of friends and supporters raised the sum of £8,000 to restore the painting and to provide a new frame and easel. Local restorer Ruth Baier-Rolls was commissioned by the Trust to carry out the restoration work (see below), and also commissioned local craftsman Andrew Garton to make the new frame and easel.
Its history, however, remains something of a mystery. It may reasonably be inferred from the inscription that the painting was presented in 1897 to the mission church of St Saviour in Staines Road, Sunbury upon Thames, situated close to where Bosdet was then living with his wife Marion at 2 Orchard Cottage, Charlton Road. The church later moved to a new building in Vicarage Road in 1913 when presumably the painting was taken to the new church. However, the Vicar's testimonial dated April 1929 refers to the painting as having been "just painted".
A similar portrayal of Christ appears in Bosdet's stained glass window in the south wall of St John's Church in Jersey dedicated in 1926 and commissioned by the Rector the Reverend E. St John Nicolle and his wife.
A painting of an angel
(Jersey Heritage catalogue ref: SJA/0000/00299)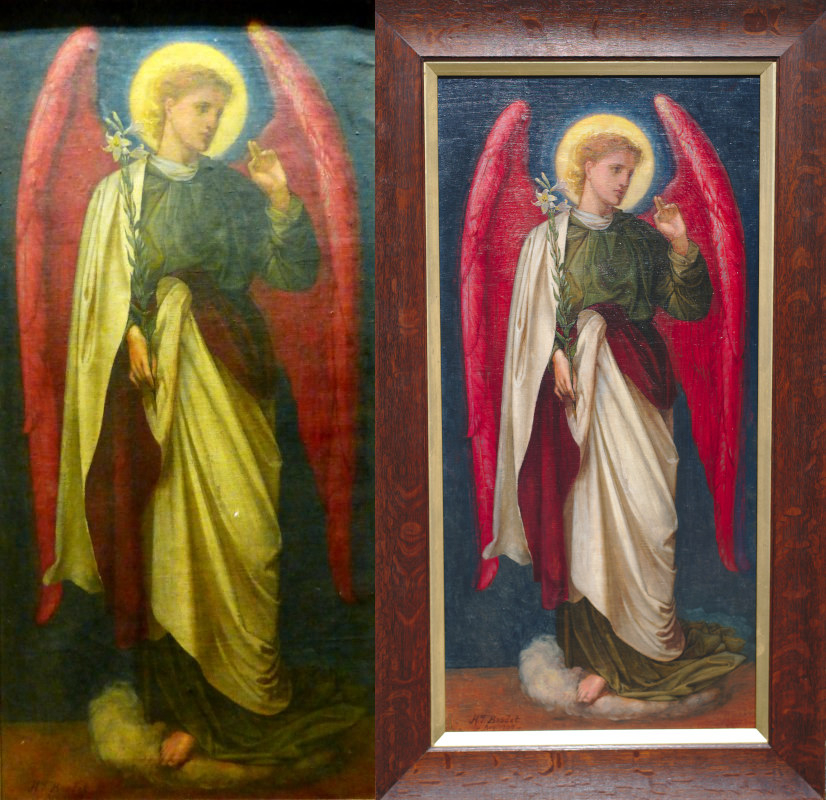 Painted in oils, signed H.T.Bosdet and dated Aug.1902, it measures 74 cm. in height & 36 cm. wide. A full length figure of an angel against a petrol blue background, with golden hair and halo, red wings and green, scarlet and cream robes. His left hand is held up making a sign of blessing and his right hand holds a long stemmed white lily.
The frame in plain dark wood with a gold painted border next to the painting fortuitously matches the new frame commissioned for the restored painting Christ Crowned with Thorns.
The Trust was fortunate to commission Ruth Baier-Rolls (who had restored "Christ Crowned with Thorns" in 2013) to clean the painting in the spring of 2019. It was exhibited in public for the first time in St Anne's Chapel on 6 July 2019 at the St Ouen's Manor Fête.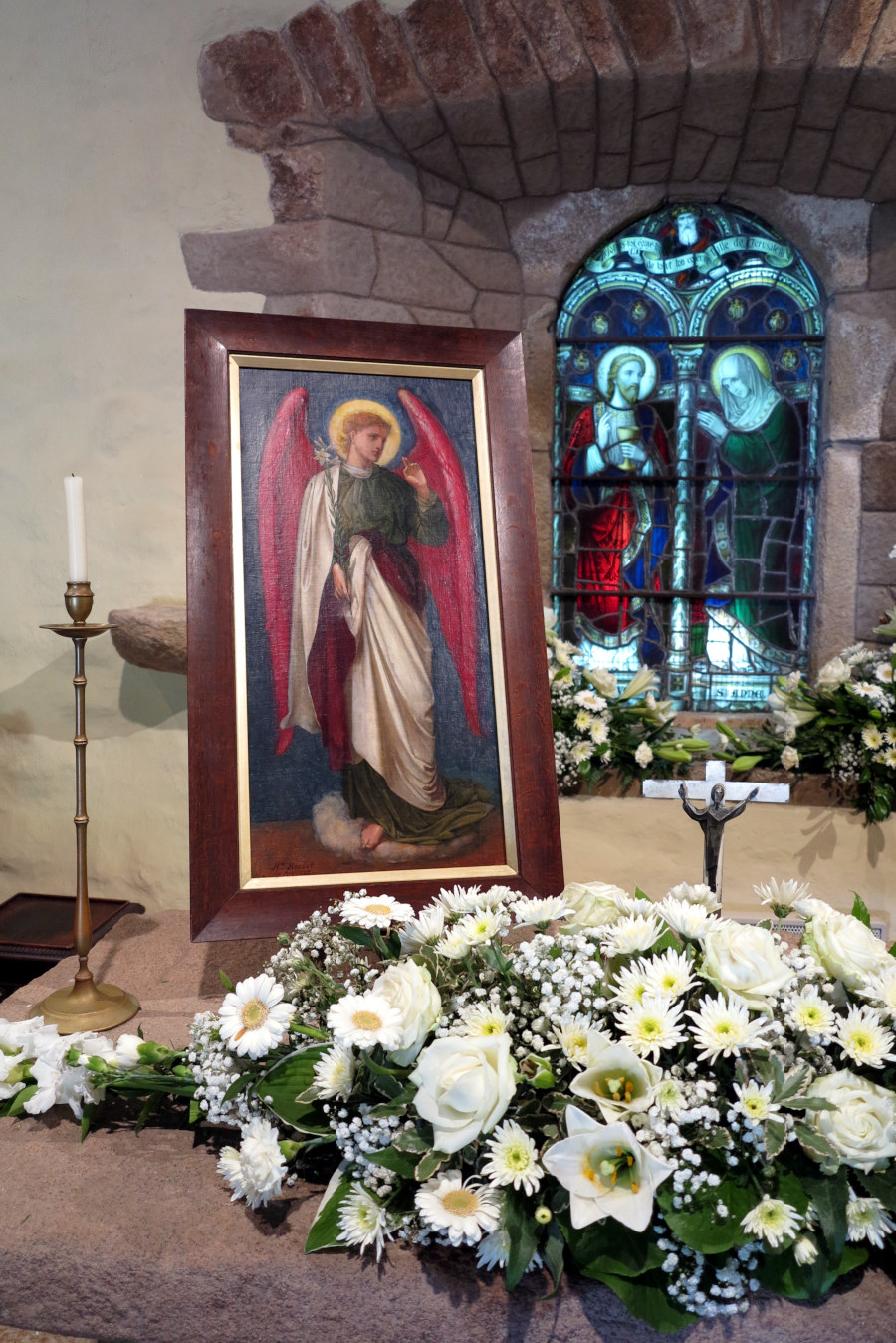 A painting of a lady asleep in a wooded bower attended by her fairyfolk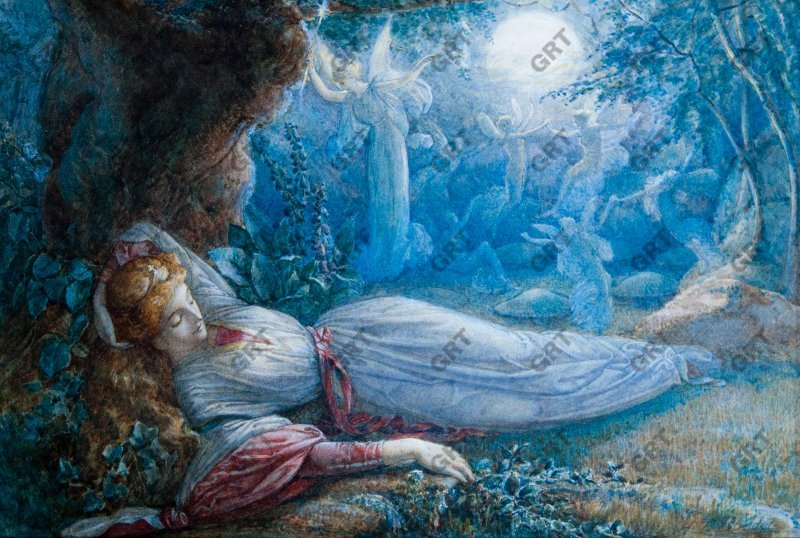 In a private collection, this delightful watercolour measures 39 cm. high by 45 cm. Its history is at present unknown. Subject Titania perhaps, in pre-Raphaelite style.
Portrait of Johanna Catharina van Sorgan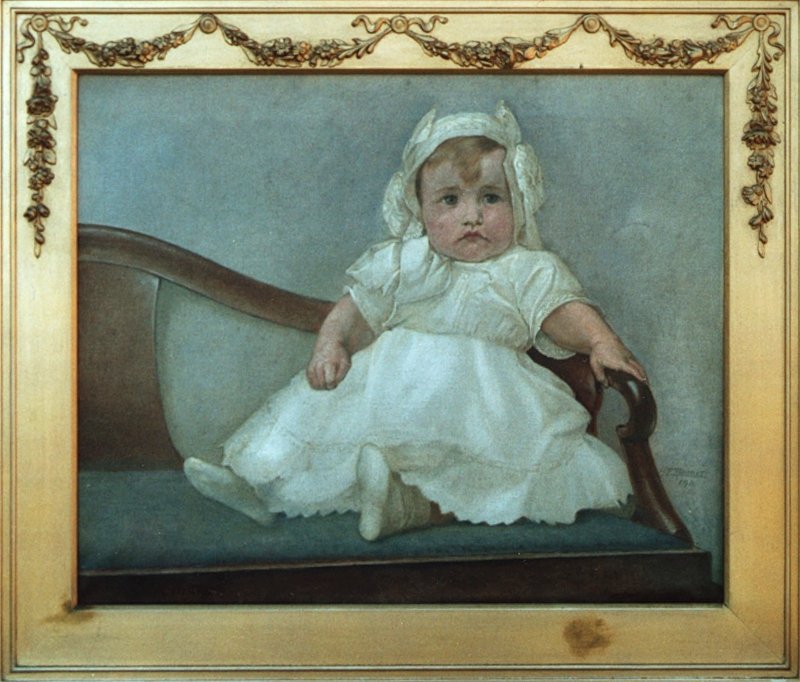 This portrait of a baby girl was painted in 1911. The RKD catalogue states that the artist stayed with the family of the sitter in Utrecht. One can surmise that Bosdet was visiting his cousin Mary Sarah Twiss, née Aubin, prior to the commissioning of the first of his stained glass windows for the Church of the Holy Trinity in Utrecht in 1912.
Restoration of "Christ Crowned with Thorns"
Details of the 2013 restoration works by Ruth Baier-Rolls
A local conservator, Ruth Baier-Rolls of Paintings Conservation Ltd, carried out the restoration of the oil painting Christ Crowned with Thorns between February and June 2013, having the use of the artist's studio at Grey Gables, St Brelade by kind permission of Judy Dingle, a supporter of the Trust. A new double frame in American walnut with a gilded slip frame was made by local craftsman Andrew Garton, together with a specially designed display easel.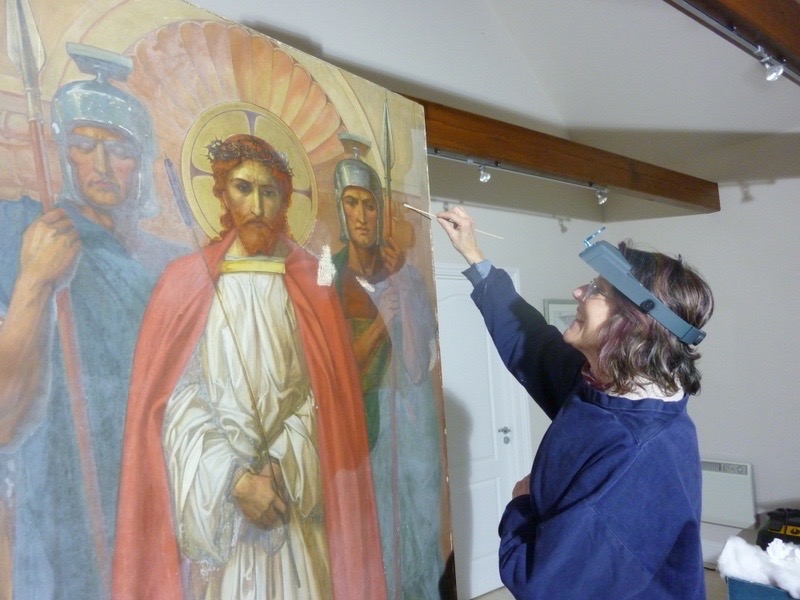 The painting (180 x 110 cm.) was dirty and torn in places. The restoration work involved:
paint layer around tears consolidated
torn stretching edges temporarily fixed
distorted canvas around tears flattened
tears re-aligned and mended
painting removed from stretcher
reverse of painting cleaned
paint layer consolidated
tears re-enforced on reverse
painting strip-lined
painting stretched on a loom
painting cleaned
old stretcher cleaned and repaired
painting re-stretched with dry-lining
paint losses filled
varnished retouched
re-varnished
painting fixed in new frame with protective backing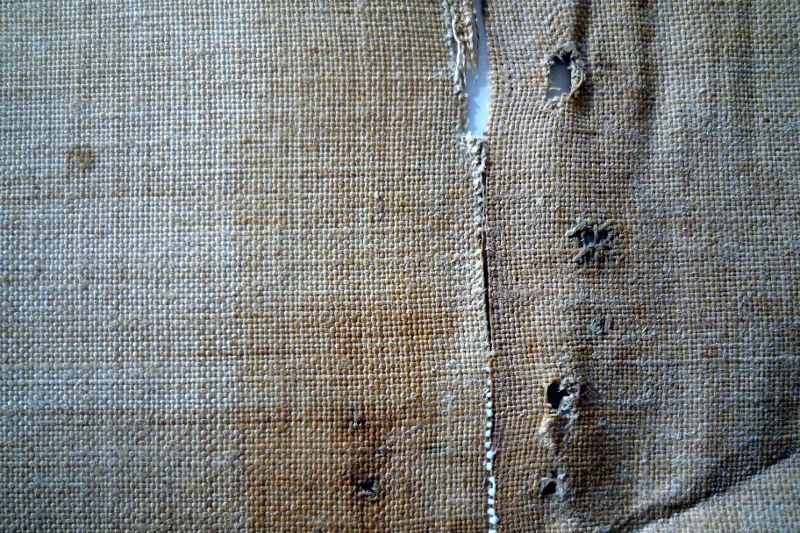 Materials used for conservation treatment:
BEVA 371 in white spirit (consolidation of paint layer)
PVA (mending of tears)
Silk crepeline and BEVA 371 (support around tears)
BEVA 371 foil and polyester canvas (strip-lining)
mixture of PVAc/ PVA/chalk (putty)
MS2A resin in white spirit (varnish)
dry pigments and MS2A resin in white spirit (retouchings)
MS2A resin in white spirit and micro-crystalline wax (final varnish)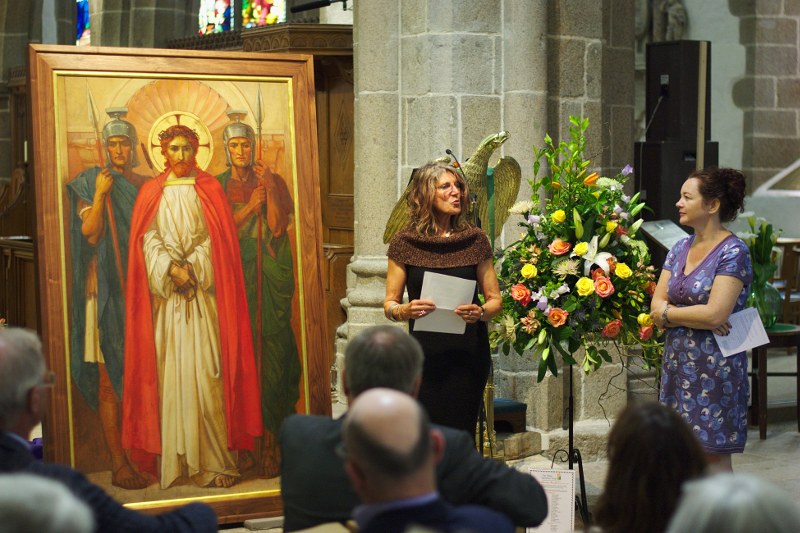 Since the restored painting was unveiled and rededicated by the Dean of Jersey at the Town Church, St Helier on 19 June 2013, the painting has been exhibited at St Martin's Parish Church, St Thomas's R.C.Church and the St Helier Methodist Centre.